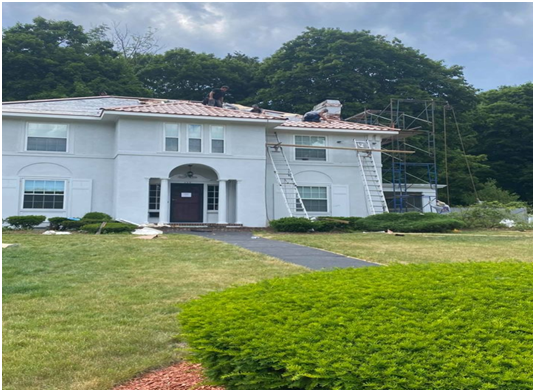 3 Important Reasons Why You Should Keep Your Roof Intact
The roof is as indispensable as anything else in the house. It is the least decorative part of the house, though. Hence, it is often the most neglected aspect of the dwelling.

It is worth noting that any negligence of the maintenance or timely replacement of the roof can lead to a major failure. It can be an invitation to a series of problems. It can be doubly troublesome as the time of the year may even pose a big impediment in the restoration work of the roofs.

Below are some reasons why you should be looking for a Marlborough Roofing Contractor if you have a rooftop on its verge of breaking.

1) You get protection from the weather

One of the most important tasks the rooftop carries out is keeping you safe within the enclosure of your house. It protects you from the harshest of the weather, namely rain, snow, and so on.


Ignoring a cracked or chipped-off tile on the roof can, needless to say, cause a great deal of harm. The dripping water from the roof will not only create a mess inside the home but also affect the paraphernalia that it comes in contact with, namely furniture or home appliances.
A persistently moist atmosphere will also lead to the build-up of mould inside the home. It can affect the home severely. Moulds will spread over, and getting rid of them needs repainting along with plastering, which is an added cost to your home restoration.
Hence, it is important to contact a Marlborough Roofing Service provider who can help you with timely service.
2) Proper roofing will help you with a better energy efficiency
We all have either an air conditioner or a heater at home. Some of us have a combination of both, i.e., the HVAC system. These thermoregulation systems work on energy and demand a steady supply of it.
Utilities are the most cribbed upon as their increasing prices can wreak havoc on our monthly spendings. Broken roofs will leak the temperature-controlled air and will inevitably make your AC, heating, or HVAC system work extra for keeping up the optimum temperature. It will add to your electricity bill.
Replacing the roof may be regarded as rather expensive; however, not replacing it can turn out to impact the cost considerably in the longer run.
Consulting a good roofing contractor Shrewsbury MA will help you get quotes within your budget.
3) Broken roofs are not pleasant to look at
Those who are planning to sell their property wish to get the best of the prices for their homes. Having a completely functional home with every corner, ceiling, roof, etc., will be the first thing a potential buyer will look at.
Roofs with a crack can be easily noticed since the crack will let external light in. A single glance upward can make you lose a good deal.
Consulting a good roofing company will help you get the most reasonable quote, which will not add to your budget but will help you get the right value for your home.
Conclusion
Choosing a Shrewsbury Roof Replacement company like Global Roofing can be the best decision. Global Roofing is the most well-known and highly preferred roofing solutions provider with time-bound commitment and great aftersales service.
More Blogs:-
Why is it Important to Call Professionals for Roof Snow Removal?
What Can You Do To Find the Best Roofing Contractor?